In General
Our team here at MindCraft has some exciting news to announce to all our loyal customers! The independent review platform called Clutch.co named us one of the top AI Companies in the world! They're highlighting us for our work in AI.
As in any consulting business, recommendations and referrals play a very important role in MindCraft. Many of our clients came through recommendations and referrals. In 2019 we registered on Clutch where our customers could leave their honest feedback about working with us, about our engineering skills, communications process, and about the things we could improve.
During a very short period of time, our profile gained popularity, being very focused on our favorite niche – Data Science. We are blessed to have received several reviews from our customers, who gave us excellent ratings and shared their experience of working with us with other potential customers. We are grateful for our clients' support and happy to have been able to help them reach their ambitious business goals.
Thanks to these reviews, people interested in ML&AI projects are able to learn more about us and what can best describe what MindCraft is really about other than the reviews of our clients? Besides, constant feedback helps us to move forward and reach new heights.
It feels especially wonderful to be featured in one of Clutch's listings, as those are very objective and based purely on our customer feedback and reviews. A team of analysts takes the time to painstakingly independently interview each client, making the results data-based and very useful to those looking for software vendors. We are happy and honored to be recognized as a Leading B2B AI Company by such an esteemed platform, and named as one of the world's top 2020 service providers. We encourage you to visit our Clutch profile and read everything our customers have to say about working with us.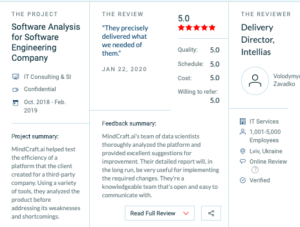 Also, read our previous news about Meet The MindCraft AI Research Lab!
Team MindCraft.
you might also like…